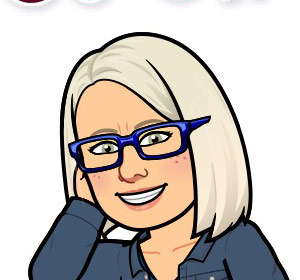 Ginger Poole
Senior Product Designer
Pop-Up
A digital solution to help the loneliest generation.
Finding a solution for loneliness
Cigna conducted the largest study on loneliness ever undertaken in the U.S. - 20,000 surveyed and found that 18-22 year olds were the loneliest generation.
I created a concept for addressing this issue with an app to schedule spur-of the moment group pop-ups for college students and young professionals


I worked on this idea in my spare time


I conceptualized, designed, created the pitch deck and presented the idea.
Pop-ups are small (4-8) people that anyone can host and anyone can attend around a topic or interest. They have to be at approved public places and take place 1-48 hours from being posted.

"I think loneliness is a problem for our generation."
- College student
Interviews
At the discovery phase of my project, I shared this idea with three college students.

Guiding Questions:
I was curious to find out if college students would initiate pop-ups. I found they would only do it if they were freshmen(didn't know anyone), were able to network with professionals, or could use it to create study groups.

They also felt it would be more beneficial as young professionals or in community colleges.

They suggested having Facebook Contacts imported so they may know someone who knows someone.

The idea of a group of strangers getting together was not comfortable for this age group.

They also said they would like an algorithm matching people and interests.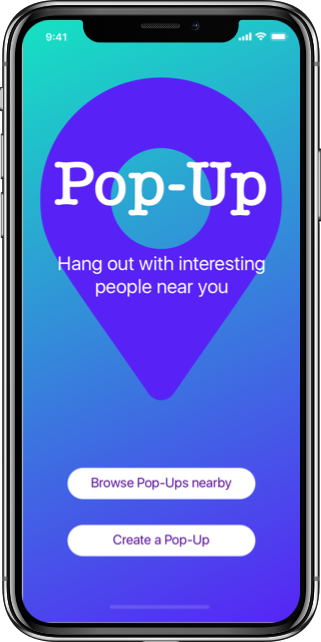 Sketches
Example
I did some quick sketches in Sketch to have screen shots for the pitch deck.
Initially i wanted to show what a sample app could look like.

I chose this version with the location icon to show that these pop-ups are location based. The app would send you a notification when you are near a popup with your interests.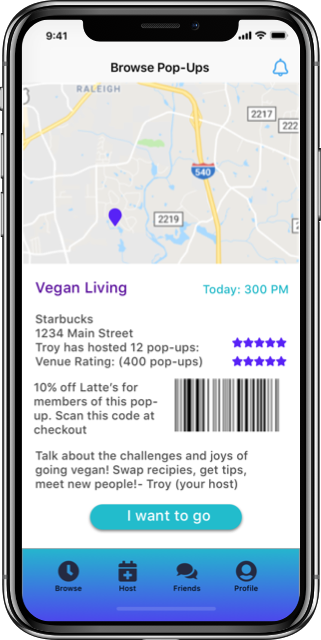 Wireframes
I created a few screens to show the interaction
This shows the location/map, topic and time

Rating for host & rating for venue

Bar code for discount off of venue's product

Button to sign up

You can see in the navigation you can save pop-up friends that you meet so you never have to exchange information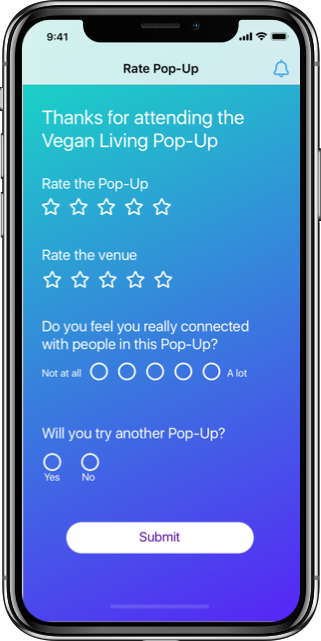 UI Design
I chose the popular graduated fills to influence the user with trustworthy but lively color.
Finding the right partner would be key.
This project inspired me to go further.
I learned to pitch innovative concepts and not to give up when confronted with barriers but to use every obstacle as an opportunity to get the idea right.
The biggest problems centered around funding and fear

I was not able to overcome these obstacles...yet.
I'm already thinking of pivoting this idea to create a networking site for young professionals and college students ( spur-of-the-moment mentoring). Also creating one for spur-of-the-moment volunteering those folks who want to give back whenever they have a free hour or two.