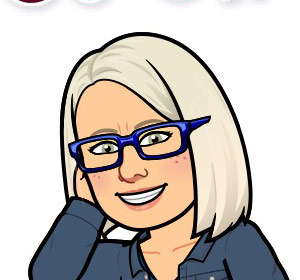 Ginger Poole
Senior Product Designer
Which health insurance is right for me?
Creating Cigna Guided Solutions
New Health Plans. New customer decisions.
Initially, I was asked to "spruce up" an application an agency had delivered that was already in production. After I worked on a style sheet change to match our brand, the user testing revealed deep interaction pattern problems and I began a deep dive on UX.
I was the UX Lead, supervising one other designer

I began working on this project 2 years

I created sketches, concepts, wireframes, prototypes, specs and style guides using Axure.
The main goal of the application was to introduce a new mental model to customers. They needed now to choose a plan not only by deductible and premium but by a new variable - network. Customers had not had the choice of several local or national networks before. They needed to find out if their providers were covered under each plan.
Concepts and Comparison Charts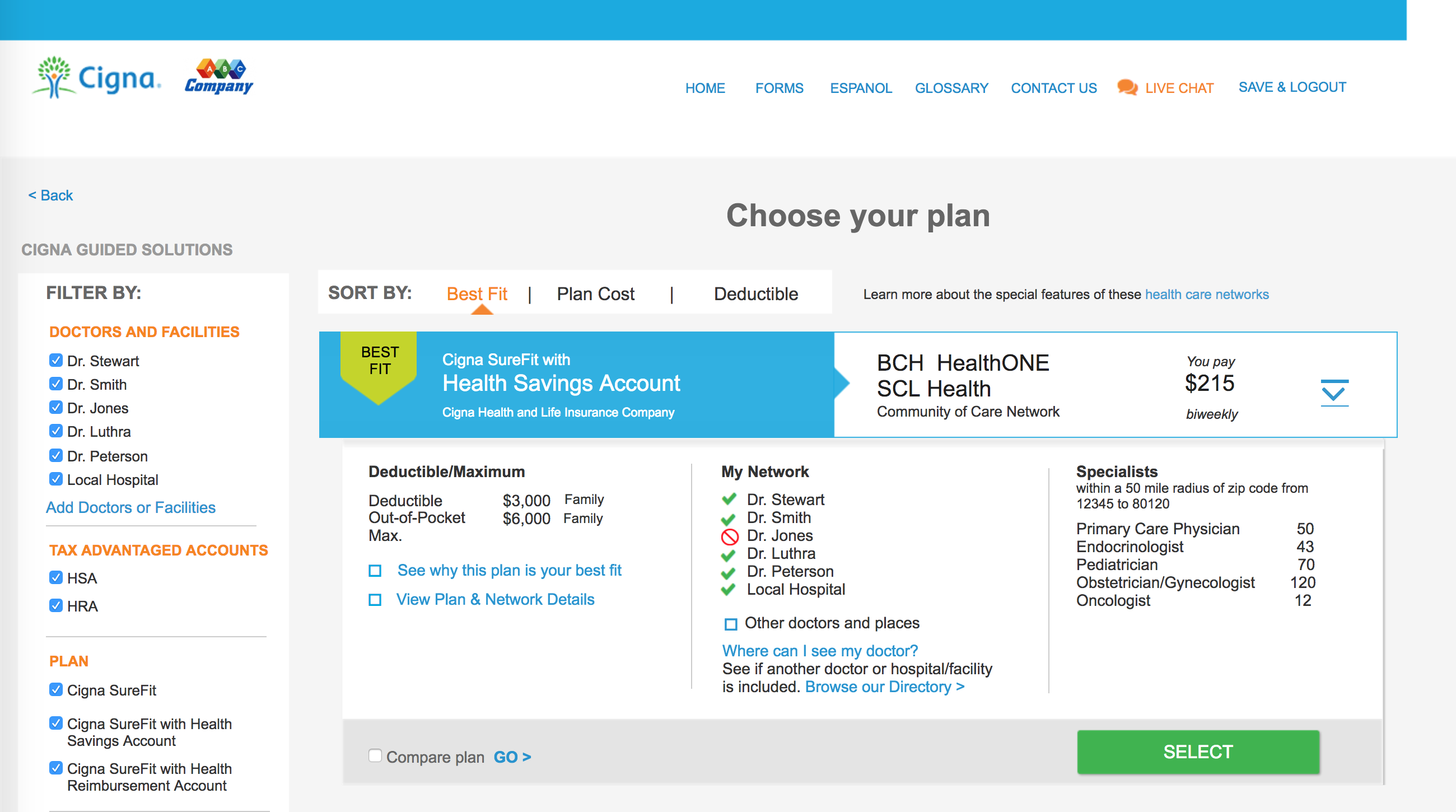 Sketches
I used Axure to quickly prototype multiple concepts for the "Choose a plan" page.
I was brainstorming how we could present questions to the user that would eventually result in an algorithm suggesting the right plan for them.

I created 7 concepts and we tested 4 prototypes

We chose to go with the comparison chart look and feel because, in several tests of different versions, people wanted a side by side comparison view, even if it was long and scrolling.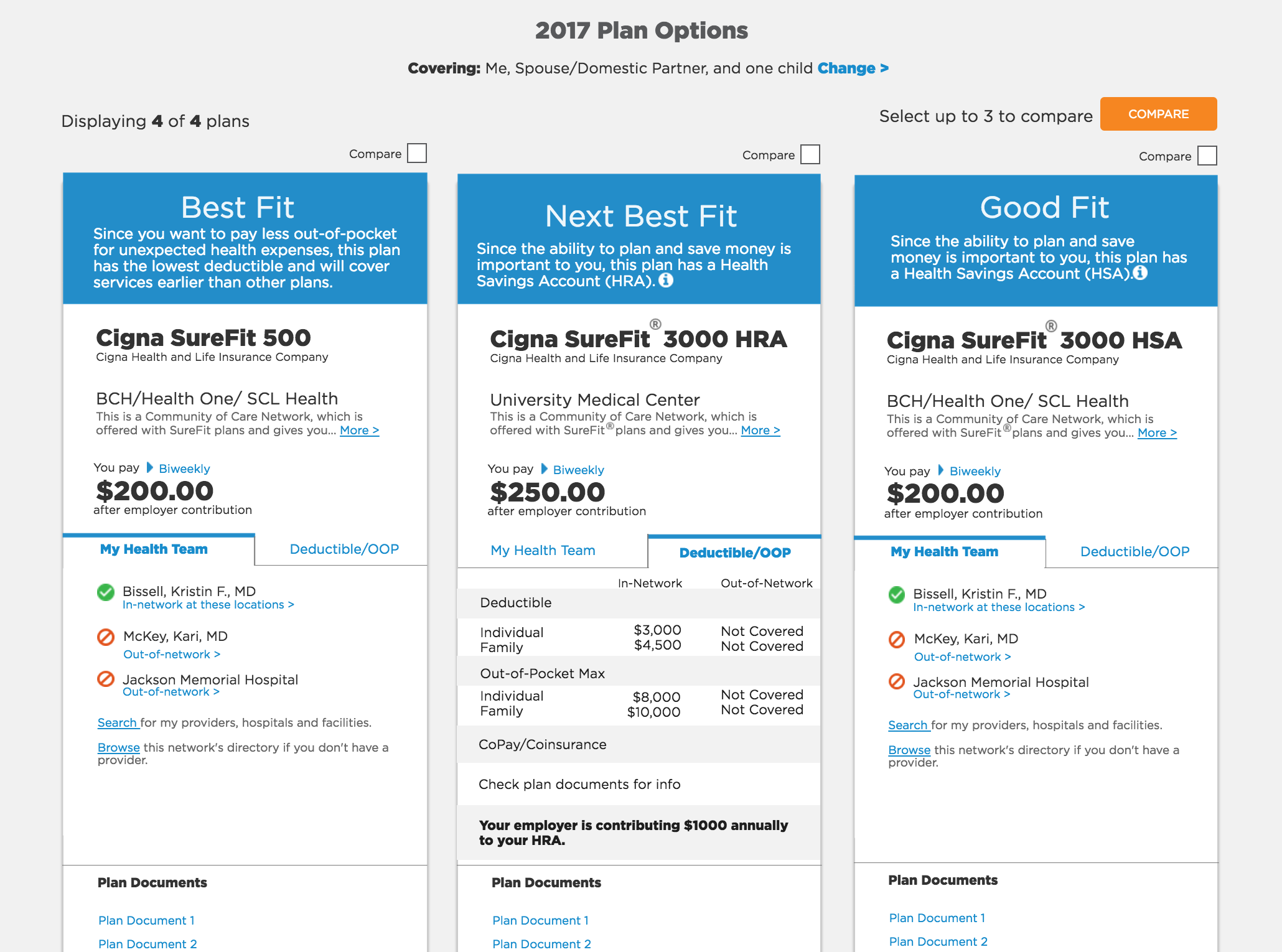 Wireframes
Wireframes let us test the variety of data that was needed in the interface.
One innovation we used was the "find a doctor" feature. We allowed customers to input the provider and we compared across plans to see if the provider was covered under each plan.
Customers loved this feature

We surfaced it on the first page so that the three variables were considered equally (deductible, premium, network)

The wires led us to high fidelity prototypes in Axure.
User Testing
Over the two years, we conducted 12 rounds of user testing in a lab with 8-16 people each session.
We tested the project with Axure prototypes I created and compared to them to the live site.

Our target audience was adults with insurance who are the decision-makers in the household

We had internal User Researchers conduct the moderated sessions while I took notes.

We asked participants to choose a plan based on a simulated family.

Customers continually wanted the side by side comparison chart feature and were successful when we presented it. This changed our approach from one of suggesting a plan being central to comparison being central.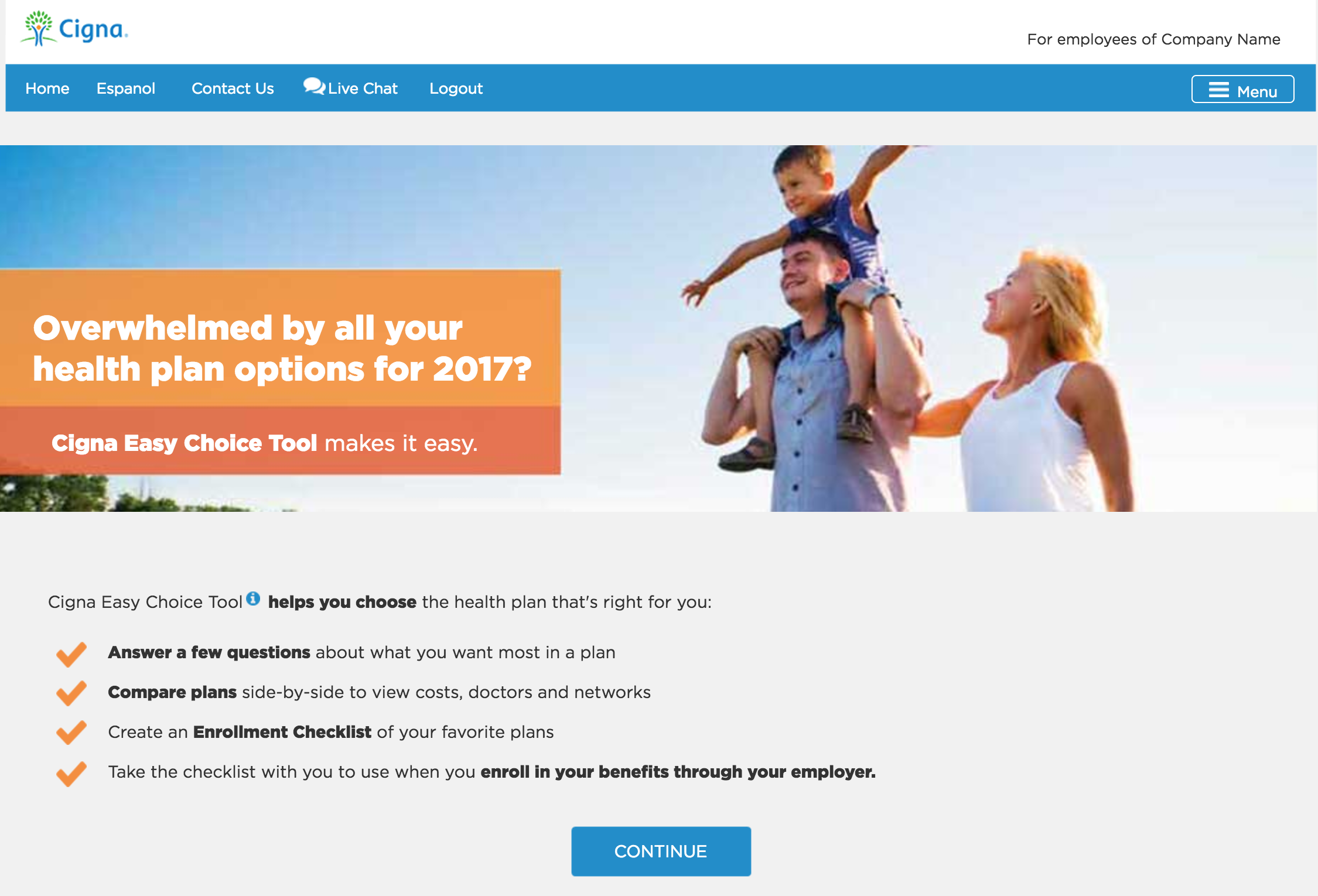 UI Design
I was able to work with the UI design slightly at first and then when we pivoted to a standalone tool I had more freedom to work with the visual design.
I used our brand palette but enhanced the font size and added more whitespace

I created my own style guide for the responsive app.
This project taught me to be patient, humble, and to trust my team.
This was a long haul project. Day in and day out we worked against data difficulties, agile timelines, customer feedback and having remote teams. We pulled together to make clear, informed decisions.
The biggest problem to overcome was the overwhelming amount and complexity of the insurance data and terms that had to be presented. As much as we tried to simplify, there were certain things that had to be explained.


We overcame many obstacles but the complexity of health insurance was still an issue. Some participants did not have the patience or aptitude to try to make a decision and so relied on our recommendation. For others that were detail-oriented, our comparison chart worked well and our recommendation was annoying to them.
36
Screens in the Application